24th August, 2021
By Kathryn S
There are numerous things to consider when renting a storage unit. At least if you want to get the best deal, and have a storage unit that fulfils your needs properly. having those things in mind, and knowing the right things to be looking for, and checking, when renting a storage unit, can make your life far easier than you think moving forward. It can also mean that you get far better value for money overall when renting a storage unit. As a note, these things apply to all manner of situations
Common Situations That Create A Need For Self Storage Units:
Relocating A Business
Needing Storage For A Home Business
Storage For Excess Product
Storage Of Heirlooms And Valuables
Plus various other more niche situations that create need for storage.
Things To Consider When Renting A Storage Unit
The kind of storage you require, the following factors need to be considered before you choose:
Storage Unit Size
In simple terms, the size of the storage unit you need is determined by the size of your items.
Access the items and calculate the amount of space your items will take up, taking into account the items' height and width. If the items are oddly shaped, they will take up more space as packing will be more challenging.
Likewise, is type and condition will impact on size of storage unit required. If everything is fragile, then you will only be able to stack to a certain height, depending on the storage containers used to pack items before they go into your storage unit. Packing materials, whether cardboard or plastic for boxes for example, have big impact on rigidity and thus stack height. Pack things poorly and items will get crushed, thus negating the value in storing them. Packing heavier, more solid, and certainly less fragile items low down, and more fragile items on top, is generally the best way to go.
Considering how everything can be packed together is well worth considering when renting a storage unit, as it will help you get an efficiently sized storage unit.
Storage Unit Cost
The cost of the storage unit will be much is determined by the space your items will occupy.
If the items are large, they consume more space, and hence it is more costly and vice versa, less space equates to less expensive.
Cost is also determined by the period in which you will store the items. Longer term storage often brings discounts due to the scale of time involved. Shorter term rental of storage units means that various one off costs have less time over which they can be distributed. Most businesses will do deals for longer terms as it also helps create stability for their business. Storage unit deals can be better at times than others, with occupancy rates and seasonal variations both having an impact, so never expect the the deal you see today will be available next month, next week or even tomorrow. As fewer units are available, storage unit facilities are less inclined to give bigger discounts.
The best thing you can do is give our friendly team a call today for a quick Mobistorage quote, and check out the current situation.
Storage Facility Security
Everyone want their things to remain safe, and in good condition, if not the same condition as they are when they go into the storage unit.
Security of storage facilities varies a lot between different storage providers. Some are basically the same as just having a lock up garage. Whereas others have state of the art security, with CCTV, swipe card or NFC device coded access, and various other measures. Security always impacts on cost, the most security, the more expensive. However, security also brings peace of mind against theft when storing things, especially when you are putting things like family heirlooms and valuables into your storage unit.
It is well worth considering how irreplaceable something is when you are considering renting a storage unit.
The more irreplaceable something is, even if it has little intrinsic value, the more security and maintaining item condition should be considered.
Maintaining item condition at times will be more important than security against intruders. If humidity or temperature variation are going to cause decay or degradation, then consider that. Equally well, for anything made with organic fabrics, clothes, canvas paintings, books, etc. consider whether pests and vermin are likely to attack them, and if so, how you are going to stop that from happening. Storage containers will do a certain amount to guard against pests, quality storage units that are pest and vermin proof will be more cost effective for you though, plus help eliminate heart break from things like half eaten childhood teddy bears.
All of our Mobistorage units are safe and secure, made from heavy duty steel they're weather proof, pest and vermin proof, water and fire proof.
Storage Facility Location
Storage facility location is a big thing worth considering when renting a storage unit.
You want a storage unit that you can access easily, with minimal distance needed to transport your things. Especially if you have heavy, bulky or awkwardly shaped items to put into storage.
The closer you can be to your storage unit, the better. Though naturally, this needs to be balanced off against costs of renting a storage unit from the providers being considered, along with aspects of storage security, and availability of storage units in the size suitable for you.
If you store the items, you will not require any time soon, and the location may not be such an issue. Storage facilities within urban areas tend to be more expensive as compared to the ones outside urban areas. Luckily, Mobistorage provide mobile storage units and we deliver them to your home, so wherever you are in the Perth area, your mobile storage can be delivered to your doorstep.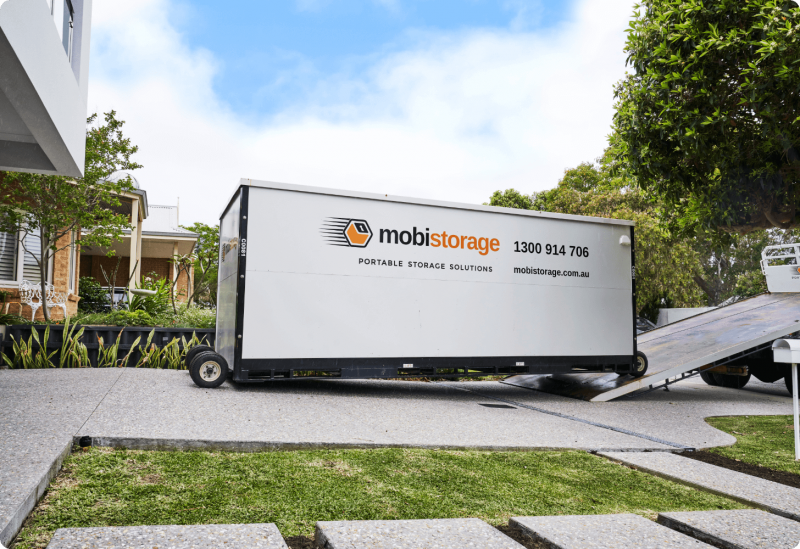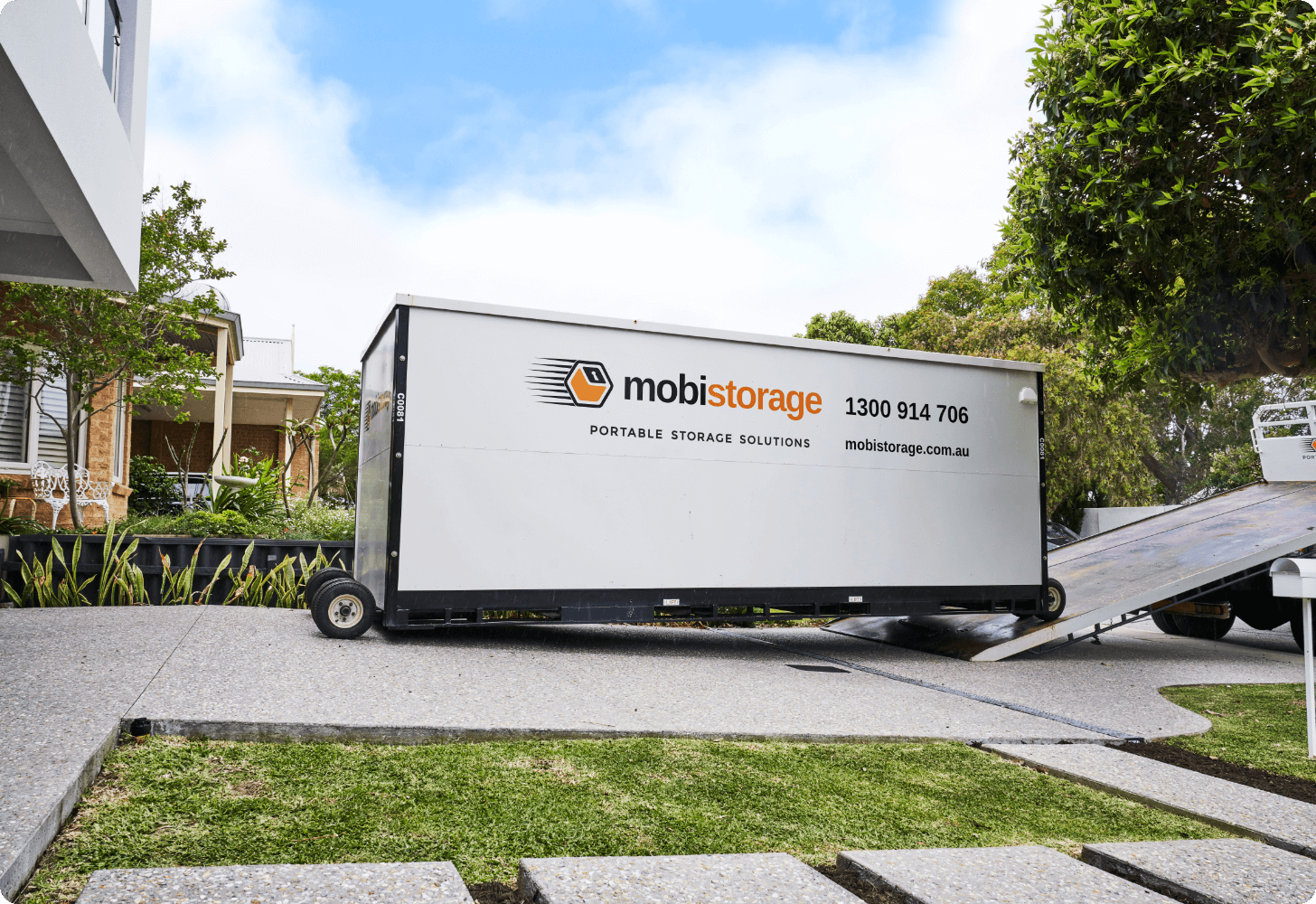 Convenience To Consider When Renting A Storage Unit
Mobistorage's mobile storage units in Perth are convenient for all customers. We deliver your mobile storage unit to your door, anywhere within the Perth area, you take as much time as you need to pack it, and then you can either keep it onsite or we'll store it securely for you. We can also help with approved removalists if you are moving house, and we do help with Perth removals on a regular basis due to the mobile nature of our self storage units. In terms of things to consider when renting a storage unit and choosing a storage unit in Perth, Mobistorage creates value every single time.