Your Guide to Enjoying Easy Removals
What Are Removalists and What Do They Do?
A removalist is a person or organisation that carries out removals of goods and property to assist in relocations. Removals done by removalists can be household, business or for other types of organisations including governmental and charity removals.
All removalists will assist in moving your packed goods from one location to another. Some removalists will also store your goods for you.
Removalists can perform all the below removals duties for you:
Pack your goods securely into moving boxes (ensure you determine if you need to supply these boxes, or if the removalist includes this in their pricing)
Load your goods into a dedicated transport
Transport your goods
Unload them at your new location
Unpack goods
What removalists do depends on the contract you have with them. It is always wise to develop a proper understanding of who is responsible for what, and carefully check your contract with any removalists you are considering before signing.
Determine how much work you would like your removalist to undertake for you, and determine which services you would like:
Pack, load and transport
Load and transport only (you pack)
Transport only (you pack and load)
What Does A Good Removalist Do?
Good removalists will be accredited, and will take the time to talk with you about your move, your timeframes, your budget and your expectations. Make sure you tell them exactly what you need, and they can be realistic about how long your move will take and how much it will cost.
Good removalists will be professional, reliable and respectful, and will take care of your items. It always helps if they are friendly, and easy to work with too!
Remember to ask them about insurance cover, and good removalists will happily talk you through your options.
How Do I Find A Good Removalist?
How do I find a good removalist?
The 3 top ways to find good removalists are:
Consult Google reviews. A good company will have over 20 positive Google reviews (ensure you check for any fake reviews that look like they lack details, a shorthand style or inauthentic wording. You should consider steering clear of a doctored review profile).
Google results. Google's results will often prioritise customers' websites who have invested heavily in advertising, refining their message and communicating with customers. These are the companies that know what you want and need. The better the website rankings, the more (typically) this business cares about their content and their services.
Word of mouth. Arguably the easiest form of finding a removalist. Ask friends and family for feedback about good customer service, clear quoting, acceptable costs and if the company is easy to work with.
Are Removalists Liable For Damage?
Are removalists liable for damage? In general, yes. Liability depends on how removals contracts are written, alongside the law which should be consulted state by state. When your removalists are handling all the packing and loading, as well as transportation, they will be liable for damage as a result of moving.
When you are packing, and your removalists are only transporting, then liability becomes more complex. When items are poorly packed, then liability falls on those who packed them. Though if there is an incident during transportation, liability can fall on the removalists or third parties involved.
Check contracts, and consult a legal representative about the rule of law if you have serious concerns or are unsure, prior to any contract being signed with removalists.
Do Removalists Pack Your Stuff?
Do removalists pack your stuff? When you contract them to do so, yes. Removalists all offer different levels of service, some purely cover transportation for your removal, so you pack everything, then you load it yourself onto the truck, unit or transport. Other removalists will do all the packing, loading, transportation, then unloading and unpacking.
Some removalists, including the one's recommended by mobistorage, offer various levels of service and assistance. Some will give you options of cheaper removals by you doing the packing and loading yourself, or you can choose to have professional removalists come to do all the time consuming packing and loading for you. You decide what you need! In addition to transportation, unloading and unpacking.
Make sure you consult with the removalists, and check their fees alongside your budget, so you can be sure about whether you need removalists to pack your belongings, or if you do it yourself.
Professional Removals
Professional removals are very worthwhile when time is your most important issue. Keep in mind that there will be additional costs to have a removals company pack and move for you.
Paying good removalists for professional removals takes the stress away when you are moving. Good removalists can pack faster, more effectively, and often have efficient processes (and experience!) to make moves easier than the average person can.
You can save money by doing removals yourself, however, doing removals yourself will usually take longer. Using good removalists for professional removals means your new office or home can be set up and ready for you much quicker.
Professional removals by good removalists come in various forms and service types:
mobistorage offers various levels of service, allowing you to do the packing and loading of our specialist mobile storage units yourself. Or you can get good removalists from our network of qualified removalists, so that you can achieve the best balance of service and price for your budget.
Mini Removals and Small Removals
Some removalists will only undertake minimum sizes and distances when doing removals.
There are often times when customers are only moving one or two streets away, or sometimes just a few doors down the road. These circumstances usually only need a smaller service from removalists.
Mini removals and small removals services cover these shorter distances, as well as small-scale household and organisational sizes.
When you are moving a minimalist studio apartment, a room from a shared house, or a home office to a new purpose built location, apartment or home, then mini removals or small removals services can be just right for what you need.
These are niche removal services, and often require checking if removalists will actually do them. mobistorage covers these mini and small removalist services, with various options and service levels available. Speak with our team, and we can often meet your needs and your budget.
All Purpose Removals
All purpose removals will handle day to day, simple removals. Most households and offices fit into this category, where standard furniture is being moved, along with items commonly found in homes and offices such as computers, books, kitchen appliances and clothing.
Most removalists provide all purpose removals services as their core removals service.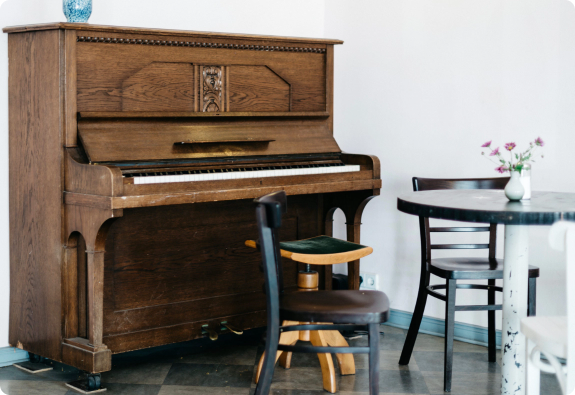 Specialist Removalists
Specialist removalists are required when items in your household or organisation require special care and attention.
Boats, car collections, professional audio, photography and video studios, and computer servers are just a few of the things that usually require specialist removalists.
Pianos usually require specialist removalists when being moved. Most removal companies have weight limitations on what they move. Commonly removalists will only handle items up to 150kg. Pianos as well as being heavy, are also very sensitive instruments so careful packing, then retuning is often required after having been moved.
When consulting with good removalists, they should advise on specialist removalists as needs arise, often with recommendations for specific removalists that they have worked with and trust.
How Much Do Removalists Charge Per Hour?
Different removalists charge differently. Some removalists charge per hour, and many removalists will quote having looked at the removal job and what is required. Some removalists charge a flat fee dependent on the size of the storage unit or vehicle being used. Getting three different written quotes from different removalists is recommended, before selecting which removalist is best for your needs.
mobistorage charges a basic flat fee based on the size of the storage unit required.
$420+GST – removal unit that would fit the contents of a typical 1 bedroom home
$540+GST – removal unit that would fit the contents of a typical 2-3 bedroom home
$660+GST – removal unit that would fit the contents of a typical 4+ bedroom home
Cheap Removalists
Cheap removalists are rarely cheap, and additional costs can come from replacing broken items. Cheap removalists often cut corners, resulting in breakages, late deliveries and/or missing items.
mobistorage offers quality, cost-effective competition to the cheap removalists. mobistorage can organise a mobile storage unit delivered to your address, which you then pack yourself, at your leisure. The mobistorage approved removalists then make sure your items are transported and arrive at your new address in the mobile storage safely. So if you are looking for a reliable, professional and quality alternative to cheap removalists, contact mobistorage.
Mobistorage Stress Reducing Removalists
mobistorage removalist services have gained a good reputation for making removals easy and stress-free.
mobistorage has a range of moving options including cost-effective removals where you do all the packing then loading, and the mobistorage approved removalists handle the transportation.
mobistorage also offers a range of services, right through to full removalist packing, loading, transporting, and unpacking to get your organisation or home set up in your new location.
Contact mobistorage so you can find out how mobistorage removalists can help you have your best move yet.